At SW9 Community Housing we carry out monthly inspections of every block.
We encourage residents to come on these inspections to discuss any concerns you may have.
If you would like to come on an inspection, view the schedule below to see when we will next be inspecting your block. Let us know you are joining by emailing info@sw9.org.uk or calling 0207 326 3700. You can then meet us at the Housing Office or we can knock on your door when we arrive. 
Please click the image below to view the Block Inspection schedule for the coming month: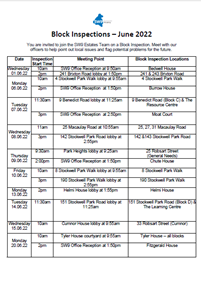 Please note: Attendees are asked to observe all COVID-safe measures currently in place in order to protect residents, staff and the wider community.