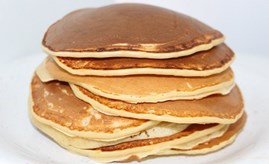 SW9 will be holding a special Pancake Day celebration for Helmi House residents this March!
Come along, meet your neighbours and enjoy freshly made pancakes and a cup of tea.
DATE: Tuesday 1 March
TIME: 12noon
LOCATION: Helmi House Lounge
There is no need to book. If you live in Helmi House just come along and join us. We look forward to seeing you there.
For more information please speak to your Scheme Manager or contact Komal Doan, SW9's Community Engagement and Communications Manager on: