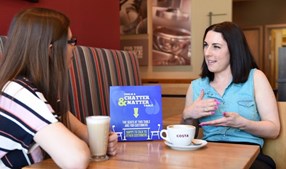 SW9 is delighted to announce that we have partnered with The Chatty Café Scheme to run sessions in Brixton.
Chatty Café is all about giving people an opportunity to get chatting and reduce loneliness – because having a chat can brighten your day.
DATE: Every Tuesday beginning 22 February 2022.
TIME: 2-3pm
LOCATION: SW9 Resource Centre, 13 Benedict Road, SW9 0FS (near the Skate Park)
There's no need to book. Just come along and join us! All members of the local community are welcome.
For more information, please contact Komal Doan, SW9's Community Engagement and Communications Manager on:
Email: getinvolved@sw9.org.uk
Telephone: 0207 326 3700
Find out more about The Chatty Café Scheme