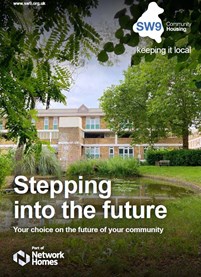 At SW9, homes and the people who live in them are important to us. They're the reason we do what we do.
There's a strong sense of community and a tradition of resident involvement in the way that the homes and other facilities on Stockwell Park and neighbouring street properties are managed. We think it's that tradition and heritage that makes the area so special.
Over the next few months we will explore the possibility of becoming a stand-alone community housing association, which would operate independently of Network Homes and be regulated by the Regulator for Social Housing.
At this stage no decision has been taken. We are at the beginning of a long process in which you – our residents, both tenants and leaseholders - will have the final say, by way of a ballot. 
We have created a leaflet to let you know all about the path we are on, how we got here and what it means for you. You can read this now by clicking on the button below. This will be delivered to your home by 12 October. If you do not receive a copy, please let us know by contacting communications@sw9.org.uk
Read the 'Stepping into the Future' leaflet 
New website pages on the history of community involvement in the way your homes are managed and the steps that we need to take will be made available soon.