This September, we will be relaunching our apprenticeship scheme and we are looking for two residents who would like to take part.
The scheme will run from September 2017 for 12 months. As our apprentice you would be working in the SW9 Community Housing office on Stockwell Park Estate 4 days a week and would attend a Business Administration course at Lambeth College 1 day a week.
The work you would be carrying out at SW9 could be in Resident Engagement and Communications, Customer Services , HR or our Neighbourhood Team, it will depend on your skills and our business needs during the year.
The course at Lambeth College would be free of charge to you as our apprentice and you would also receive a salary from us above the apprentice minimum wage.
This scheme has been hugely successful in the past. Many of our previous apprentices continue to work at SW9 Community Housing and Network Homes. They now work in full time roles such as Income Officer, Assistant Project Manager, Customer Services Officer and Aftercare Assistant.
Our previous apprentices who continue to work at SW9 Community Housing and Network Homes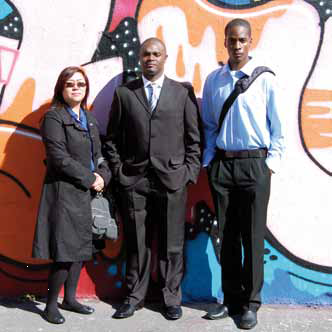 If you would like to apply for the apprenticeship scheme, please send a CV and covering letter, explaining what skills and knowledge you could bring to the role, to lily.goodwin@sw9.org.uk.
To discuss the opportunity further and to find out more information, call Lily on 020 7326 3700 or email lily.goodwin@sw9.org.uk.
The deadline for applications is Wednesday 12 July 2017.