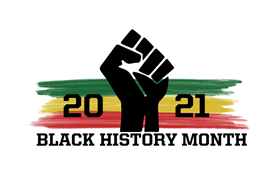 During October 2021, SW9 supported Black History Month with an exhibition in our reception area and an African drumming workshop.
Annually, October marks Black History Month in the UK. The event was officially recognised by the US government in 1976, and first celebrated in the UK in 1987. People from African and Caribbean backgrounds have been a fundamental part of British history for centuries. However, campaigners believe their value and contribution to society is often overlooked, ignored or distorted. More recently, greater attention has been paid to the importance of the Windrush generation and the Black Lives Matter movement, especially since the death of George Floyd in May 2020.
Black History Month is intended to recognise the contribution and achievements of those with African or Caribbean heritage. It's also an opportunity for people to learn more about the effects of racism and how to challenge negative stereotypes.
Exhibition
Music and Films are such a big factor in our world today.  We created an exhibition in our reception area focussing on inspiring musicians and directors who have brought about change from within their industry. To see the display please click on the button below. 
View the exhibition materials now.
Drumming workshop
We also held a free African drumming workshop in our Resource Centre with Shamha Vibrations. This workshop took place between 11am—1pm on Monday 25 October.